Thermo Orion Star A121 Portable pH Meter
The Thermo Orion Star A121 portable pH meter combines simplicity and accuracy for both lab and field pH readings.
Features
Displays pH and mV readings using Orion BNC or waterproof BNC electrodes
AUTO-READ function alerts user and locks on-screen readings when stable
IP67 waterproof rating
Stock
Drop Ships From

Manufacturer
Fondriest Exclusives
Free ground shipping
Expedited repair and warranty service
Lifetime technical support
Overview
The waterproof, battery-operated Thermo Orion Star A121 portable pH meter stands up to the most demanding field applications and delivers over 2,000 hours of continuous operation. The meter displays pH, mV and temperature readings on a large LCD screen and automatically locks in stable readings.
Mechanics
Automatic or 1 to 3-point manual calibration makes instrument setup simple, while icons provide quick updates on battery life, electrode status and calibration information. The simple button layout and on-screen messages also assist with calibration and explain setup menu choices.
Benefits
AUTO-READ function alerts the user and locks on-screen readings when stable
Up to 3-point pH calibration
Automatic recognition of USA/NIST and DIN buffers
Easy to recall calibration slope data for procedure checks
Non-volatile memory holds up to 50 data points
Universal power supply or battery power option
Includes (4) AA batteries to provide over 2000 hours of operation
Universal power adapter (sold separately) runs meter on AC power
IP67-rated waterproof housing (can be immersed up to one hour with no water incursion)
3-year meter warranty
pH
Range: -2.00 to 16.00
Resolution: 0.1, 0.01
Relative Accuracy: +/-0.01
Calibration Points: Up to 3
mV
Range - mV: +/-1600.0 mV
Range - RmV: +/-1999.9 mV
Resolution: 0.1 mV
Relative Accuracy: +/-0.2mV or 0.05%, whichever is greater
Relative mV Calibration: Yes
Temperature
Range: -5 to 105 C
Resolution: 0.1
Relative Accuracy: +/-0.1 C
Compensation: Auto or Manual
Offset Calibration: Yes
Datalogging
Number of Points: 50
Log Function: Manual, Automatic with AUTO-READ
Log Edit: Delete last reading or all
General
Display: Custom LCD
Inputs: pH Electrode - BNC, ATC Probe - 8-pin mini-DIN
Power Adapter: Universal AC, 100-240 VAC
Battery Power: 4 AAs, 2000 hrs life
Environmental Requirements: 5 to 45 C and 5 to 85% relative humidity, non-condensing
Regulatory and Safety: CE, TUV 3-1, FCC Class A
IP Rating: IP67, splashproof and dustproof
Warranty: 36 months (from date of purchase)
Questions & Answers
How is my Star A121 Portable Meter powered?
The Star A121 is powered by 4 AA batteries that have a lifetime of 2000 hrs. There is also an optional universal AC adapter available under the Accessories tab.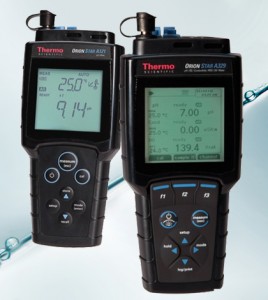 With so many options in Thermo Scientific's Orion Star A line, it can be difficult to narrow down which meter will best fulfill a project's needs. One easy way to rule out some meters is by considering application type. For projects that rely largely on collecting samples in the field, a portable meter is clearly the way to go. But there's still a handful of meters to choose from. 
 
To simplify making the right choice, we spoke with Ricki Hartwell, the global product manager for Thermo Scientific's Orion Laboratory and Field Instruments. She recently shared her tips on choosing the right Thermo benchtop. Let's take a look at her recommendations for selecting the right portable meter.
Read More