Thermo Orion Versa Star Pro Benchtop Meters
The Thermo Orion Versa Star Pro is an advanced benchtop meter that works with pH, conductivity, DO, pH/ISE and pH/LogR interchangeable modules to provide the most versatile performance of any Star-series meter.

Features
Simultaneously displays results of up to 4 modules and 10 methods on backlit LCD
Calibration editing and auto-read features ensure accurate results
USB and RS-232 ports allow easy data transfer of up to 2000 time-stamped data points
Stock
Drop Ships From

Manufacturer
Fondriest Exclusives
Free ground shipping
Expedited repair and warranty service
Lifetime technical support
Overview
The Thermo Orion Versa Star Pro benchtop meter is capable of gathering accurate data for advanced electrochemistry lab operations all in one compact, versatile meter. The meter has four channels that accept interchangeable pH, conductivity, DO, pH/ISE, and pH/LogR modules. These unique modules have all of the features of specialized meters but simplify equipment needs and allow for custom configuration. To ensure accurate and reliable data acquisition, each module is equipped with a range of calibration options and features such as calibration editing and compensation factors.

Benefits
The Thermo Orion Versa Star Pro benchtop meter has a multitude of beneficial features, including a backlit color-graphic LCD screen, a large 2000 time-stamped data set memory, an RS-232 port and two USB ports that make it simple to view, record, transfer and manipulate data.
Five modules to customize the meter's four channels

USB and RS-232 ports to upload data and update included data analysis software

Non-volatile memory holds up to 2000 time-stamped data points

Two stirrer probe ports accept Orion Star 096019 stirrer probes to mix samples without a stir plate

Electrode arm and newly-designed probe holder to place probes into samples

Works with almost any AC power source with included universal power adapter

Interface supports English, Spanish, French, Italian, German and Chinese languages

IP54-rated splashproof housing


3 year meter warranty
(1) Versa Star Pro benchtop meter
(1) Electrode stand
(1) Universal power adapter
Questions & Answers
Can I view multiple channels at the same time?
The VERSA STAR meter can display up to four channels simultaneously or the user can select the format of channels they wish to display.
When I want to switch modules, do I have to power off and start over?
There is no need to turn off your meter to switch modules. The VERSA STAR automatically recognizes module changes.
What comes with the VERSA STAR Sets?
The Orion VERSA STAR sets come with the specified module(s) in addition to the meter, power supply and electrode stand. The Dual sets come with two of the specified module.
What comes in the Orion VERSA STAR kit?
The kits include the meter, power supply, electrode stand, specified module(s) and electrode(s)/probe(s)/standards/accessories as needed. Please refer to the specification sheet in the Documents tab or contact a Fondriest representative to see which probes are included in each specific kit.
What is the "ultimate" benchtop multiparameter meter kit?
The Orion VERSA STAR pH/ISE/Conductivity/RDO/DO Ultimate Benchtop Multiparameter Meter Set includes: the VERSA STAR meter, pH/ISE module, conductivity module, RDO/DO module, OSS Ultra Triode pH/ATC probe, DuraProbe conductivity cell, polarographic DO probe, two stirrer probes, calibration sleeve, DO maintenance kit, BOD funnel, BOD adaptor, ROSS solution kit, 1413 uS conductivity standard, two electrode stands and a universal power adaptor.
Does the RDO/DO kit come with an optical probe?
No, the VERSA STAR RDO/Dissolved Oxygen kit comes with the Orion polarographic probe (083005MD). However the module is compatible with the optical RDO probe.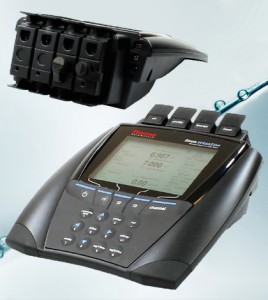 Thermo Scientific's Orion Star A line is full of options for completing projects from environmental monitoring to quality control and beyond. These include benchtops like the Orion Versa Star and portables like the Orion Star A329. 
 
Making the right selection is important for ensuring project success, but sometimes choosing a meter can be difficult. To make things a little easier, we talked with Ricki Hartwell, the global product manager for Thermo Scientific's Orion Laboratory and Field Instruments. She gave some tips to help customers find the best meter to meet their needs. Let's take a look at her recommendations for benchtops.
Read More