Tritech StarFish 990F Side Scan Sonar System
The Tritech StarFish 990F is a side scan sonar system that allows for high-resolution image definition and target detection that is ideal for ports and harbors.
Features
1MHz acoustic chirped pulses with a 0.3 degree beam width produces defined and clear images
Can easily be deployed and operated by a single person for real-time digital seafloor images
'Plug and Play' system connects to any Windows-based PC or laptop via a USB connection
Fondriest Exclusives
Free ground shipping
Expedited repair and warranty service
Lifetime technical support
Overview
The 990F is the ultimate high-resolution StarFish side scan sonar for extreme image definition and target detection. Based on the popular and proven 450F design, the StarFish 990F uses high-frequency 1MHz acoustic chirped pulses with a 0.3 degree horizontal beam width to produce the most defined and clear images from any StarFish system. With a 35m range capability on each channel (giving 70m total swathe coverage), the StarFish 990F is the ideal tool for high-resolution surveys in ports & harbors, academic research, inland waterways such as rivers and canals, and SAR (Search And Recovery/Rescue) operations.

Easy Deployment
Measuring less than 15 inches long, the StarFish 990F sonar is the smallest towed side scan sonar available. The system is independent of the boat, requiring no fixed installation and making it easy to transport and operate from any vessel. The topside controller connects to any Windows PC or laptop via USB connection for easy operation by a single person. Simply deploy the sonar by hand and tow from the boat to capture and record real-time images of the seafloor below.
(1) StarFish 990F Side Scan Sonar
(1) StarFish 990 Top Box
(1) StarFish 20m Tow Cable
(1) StarFish Power Adapter Kit
(1) StarFish Scanline Software CD
(1) StarFish User Manuals
(1) StarFish Peli Case
(1) StarFish GPS Receiver
(1) StarFish Pole Mount Bracket
Questions & Answers
What is the operating range and beam width of this Starfish?
The StarFish 990F side scan sonar system has a 35 m (115 ft) operating range at 60 degree Vertical Beam Width. This provides a maximum of 70 m total seabed coverage.
What voltage battery do I need to power the sonar?
The Tritech Starfish 990F can be powered by a 9V-28V DC power supply, or by connection to a 110V or 240V AC outlet. Several cables and adapters are included with the side scan sonar system including international AC adapters, 2m cigar-plug DC power lead and a crocodile-clip to cigar-socket DC adapter.
How do I display the sonar? Can it be saved?
The Starfish side scan sonar system is plug-and-play. The 990 Top Box module connects directly to any Windows-based laptop or computer via USB. The included Scanline software displays the sonar image in real-time. The scan can be recorded and stored for later playback.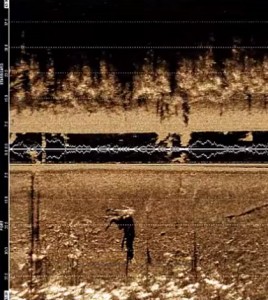 College professors know that preparing students to be good oceanographers takes a lot of hard work. Getting all the basics down, like the necessary math, chemistry and biology skills, among others, can be difficult on its own. But the real trick comes when all those skills are combined and used to approach actual work in the field. And when students finally get out of the classroom, there's still more prep, like training them to use the advanced research tools that scientists use nowadays. 
 
Still, college oceanography programs today get the job done by working in applied learning components that have students sailing on research vessels or suiting up in scuba gear to get hands-on experience.
Read More