Used YSI 600OMS V2 Optical Monitoring Sonde
The YSI 600OMS V2 measures dissolved oxygen, turbidity, chlorophyll, blue-green algae, or rhodamine in a low-cost package.
Features
Compact sonde, easily fits in 2-inch wells
Wiped optics and optional battery pack for long term deployments
Compatible with NexSens real-time data logging systems
Fondriest Exclusives
Expedited repair and warranty service
Lifetime technical support
Overview
Designed for use in fresh, sea or polluted waters, the YSI 600OMS V2 utilizes the field-proven YSI sensors and incorporates innovations in sensor configuration, such as a conductivity and temperature module that fits into the sonde body. The YSI 600OMS V2 is available with or without internal power. Its small size is perfect for applications such as turbidity or oxygen monitoring.

Optical Sensor Options 
All optical sensors (sold separately) have built-in wipers that activate prior to sensor readings. Combined with depth or vented level, the 600OMS V2 is a powerful sampling tool.
Optical dissolved oxygen,

Turbidity,

Chlorophyll,

Blue-green algae (both phycocyanin and phycoerythrin), and


Rhodamine.
Medium: Fresh, sea, or polluted water
Operating Temperature: -5 to +50 C
Storage Temperature: -10 to +60 C
Communications: RS-232, SDI-12
Software: EcoWatch
Diameter: 1.65" (4.19cm)
Length: 21.3" (54.1cm)
Internal Power: 4 AA-size alkaline batteries
External Power: 12 VDC
(1) YSI 600OMS Sonde
(1) Temperature/conductivity sensor
(1) Soft-sided carrying case
(1) EcoWatch for Windows software CD
(1) Calibration cup
(1) Probe guard
(1) 6-Series operations manual
(1) Maintenance kit
Questions & Answers
Does this used sonde have a warranty?
The used YSI 600OMS Sonde has a 90 day Warranty.
Does this sonde come broken from another customer?
Used products do not come from trade-ins, they come from Fondriest Rental Pool.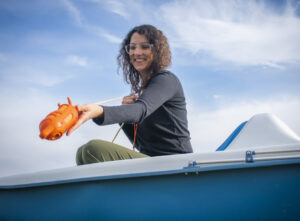 The Sontek CastAway-CTD is a castable device that measures conductivity, temperature and depth. The instrument has been used in the field for over a decade by oceanographers, limnologists, divers, fishers and educators. There have been few changes since the first iteration in 2010, showing that the instrument is durable and accurate without requiring new models. 
 
 The CastAway is the first conductivity, temperature and depth (CTD) instrument of its kind. While other CTDs are large and cumbersome to deploy, with cages and isolated sensors, the CastAway is a small, lightweight and easy-to-use instrument. Typical CTDs utilize pumps to ensure water flows over the sensors during deployment.
Read More