Used YSI 650 MDS Multi-Parameter Display
The 650-03 Multi-Parameter Display with internal barometer is compatible with all YSI 6-Series Sondes and features standard memory for storing up to 150 data sets.
Features
Easy-to-use, menu-driven interface in a compact, rugged, water-proof field display
Compatible with all YSI 6-Series Sondes
30 hour battery life (4 C-cell batteries)
Image
Part#
Product Description
Price
Stock
Order
650-03-R
Used 650 Multi-parameter display with barometer, standard memory

In Stock
Image
Part#
Product Description
Price
Stock
Order
6091-R
Used 6091 field cable, 25 ft.

In Stock

6920V2-R
Used 6920 V2-2 Sonde with temperature/conductivity sensor

Usually ships in 3-5 days

655564
5564A amplified pH sensor

In Stock

655565
5565A amplified pH/ORP sensor

In Stock

6136-R
Used 6136 turbidity sensor with self-cleaning wiper

In Stock
Log real-time data, calibrate YSI 6-series sondes, set-up sondes for deployment, and upload data to a PC with the feature-packed YSI 650MDS (Multiparameter Display System). Designed for reliable field use, this next generation display and data logger features a waterproof IP-67, impact-resistant case.

With the standard alkaline battery configuration of 4 C-cells, the YSI 650 will power itself and a YSI 6600 sonde continuously for approximately 30 hours. Temperature-compensated barometer readings are displayed and can be used in dissolved oxygen calibration. Measurements can be logged to memory for tracking changes in barometric pressure.

Standard memory will allow for approximately 150 data sets. Exact logging capacity is dependent on the number of active parameters in the 6-series sonde. Optional high memory (1.5 MB) would make it possible to easily upload the data from 7 sondes, each of which have data files of approximately 75 days at a 15-minute sampling interval.
(1) 650 display unit
(4) C-cell batteries
(1) PC interface cable
(1) 650 operations manual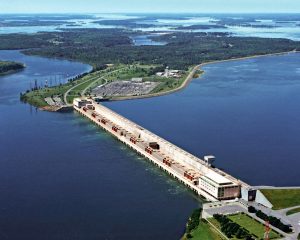 Where and how to monitor water quality is always a challenge, particularly in complex aquatic ecosystems. The new REASON Project from a team at Clarkson University is working to demonstrate the utility of using water quality instrumentation in dams on major rivers in the Great Lakes system. 
 
 Clarkson University Professor of Biology Michael Twiss spoke with EM about the new approach their team is taking at the Moses-Saunders Power Dam across the St. Lawrence River and the benefits the development of smart infrastructure such as this might offer. 
 
 "The upper St. Lawrence River is defined as that which leaves Lake Ontario and is just upstream from the city of Montreal," explains Dr. Twiss.
Read More