Used YSI EXO1 Multi-Parameter Water Quality Sonde
The EXO1 sonde includes four sensor ports with internal data logging and battery power for spot sampling or unattended deployment.
Features
Four universal sensor ports to measure a large combination of parameters
Battery life of up to 90-days at at 15-minute log interval
Bluetooth wireless communication for cable-free calibration and configuration
Fondriest Exclusives
Expedited repair and warranty service
Lifetime technical support
The YSI EXO represents the next generation of water quality instruments from YSI. The advanced sonde platform offers a wide range of capabilities to those dedicated to monitoring natural aquatic environments such as oceans, estuaries, rivers, lakes, and groundwater.

The EXO1 sonde includes four sensor ports with internal data logging and battery power. Sensor parameters include temperature, conductivity, depth, dissolved oxygen, pH, ORP, total algae (phycocyanin and chlorophyll), turbidity, and fluorescent dissolved organic matter (fDOM). The sonde can also output 4 calculated parameters including salinity, specific conductance, total dissolved solids (TDS) and total suspended solids (TSS).

All EXO sensors are digital sensors with on-board signal processing and memory. Built-in sensor diagnostic and calibration data allows users to calibrate multiple sensors in one sonde and distribute to various other sondes in the field. Wet-mateable connectors allow for swaps in wet conditions, while active port monitoring automatically detects each sensor and verifies operation.
EXO1 Specifications
Diameter: 4.70cm (1.85 in)
Length: 64.77cm (25.50 in)
Peripheral Ports: 1 power communication port
Sensor Ports: 4
Weight: 1.42kg (3.15 lbs)

General Sonde Specifications
Battery Life: 90 days**
Communications: Computer Interface: Bluetooth wireless technology (between sonde and handheld or computer with KOR software), RS-485, USB;
Output Options: USB with signal output adapter (SOA); RS-232 & SDI-12 with DCP-SOA.
Data Memory: 512 MB total memory; >1,000,000 Logged readings
Depth Rating: 0 to 100m
Sample Rate: Up to 4 Hz
Operating Temperature: -5 to +50°C
Storage Temperature: -20 to +80°C

**Typically 90 days at 20˚C at 15-minute logging interval; temperature/conductivity, pH/ORP, DO, and turbidity sensors installed on EXO1. Battery life is heavily dependent on sensor configuration.
(1) EXO1 sonde
(1) Probe guard
(1) Calibration cup
(1) Tool kit
(2) Port plugs
(2) D-cell alkaline batteries
(1) USB drive loaded with manual & KOR Software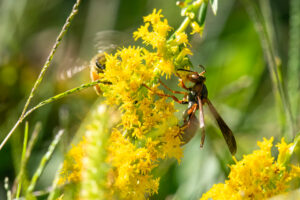 Pollinators of all shapes and sizes are vital to ecosystems around the world. From the wide array of food people eat to the diversity of life around the planet, life would be very different without them. Pollinators are organisms that help carry pollen from one plant to another, and over 350,000 species can be found worldwide, according to The California Department of Fish and Wildlife . With the strong relationship between plants and pollinators, losing either would have detrimental impacts on ecosystems. 
 
 Over millions of years, both plants and pollinators have evolved alongside each other and formed unique adaptations that allow them to work together, expediting and enhancing the process of pollination.
Read More