Van Essen Diver Data Cable Interface Unit
The Diver USB data cable interface unit allows users to communicate with a Diver suspended on a Diver Data Cable.
Features
Used with Diver Data Cables
Compatible with all Diver loggers
Diver-Office must be installed to be able to communicate with the logger
Image
Part#
Product Description
Price
Stock
Order
AS327
Diver data cable interface unit for AS6xxx Diver Data Cables, USB

In Stock
In the field, you can communicate between the Diver suspended on a Diver Data Cable and your laptop using the USB Interface Cable. Simply connect the standard USB connector of the Interface Cable to your laptop and connect the other end to the top of the Diver Data Cable.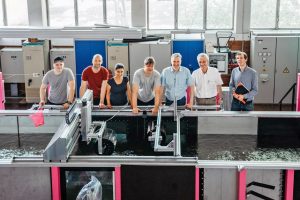 Each year in Germany, as many as 450,000 living fish undergo live animal experiments to test how fish-friendly hydroelectric power plants in the country are. The idea is to discover how readily the fish can move through hydroelectric turbine installations in order to ultimately reduce mortality rates. 
 
 Of course, subjecting live fish to a potentially deadly test to save others is a bitter irony. And it's one that a team of scientists from the RETERO research project hopes to eventually mitigate with a robotic fish for testing. 
 
 EM corresponded with Olivier Cleynen and Stefan Hoerner from the University of Magdeburg about the complex flow conditions that set the parameters for the project.
Read More