YSI 6108 Desiccant Cartridge Kit
The YSI 6108 desiccant cartridge kit is included with the purchase of a YSI sonde with vented level.
Features
Designed to keep moisture from entering the vented field cable
Includes (2) desiccant cartrides
Fondriest Exclusives
Expedited repair and warranty service
Lifetime technical support
Questions & Answers
How long can these last in the humid wetland area?
The desiccants do have a color indicator that changes from blue to purple. As long as they are blue, there is no need to replace them. There is not a specified time frame in which they last, as it all depends on the amount of humidity present in the environment that they are exposed to.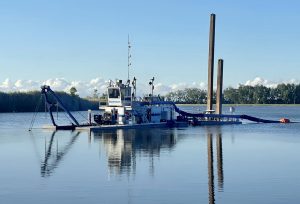 Though dredging is often painted in a negative light, dredging initiatives and projects are often conducted to improve environments, begin recovery periods for water beds contaminated with toxins, and reinvigorate ecological systems and habitats. Many of the technicians and engineers who plan and execute dredging projects are dedicated to balancing the economic benefits of dredging with protecting the environment. 
 
 Sevenson Environmental Services Inc. provides sediment remediation as one of many key services offered to help restore natural environments. Steven Shaw spent more than a decade working as an engineer on various dredging projects before finding his way to Sevenson eight years ago.
Read More