YSI 6131 Blue-Green Algae Sensor
The YSI 6131 blue-green algae sensor monitors algal populations at natural levels in freshwater, providing an early warning for bloom conditions.
Features
YSI 6131 BGA Sensor is designed for freshwater (phycocyanin) environments
Optimized for excellent sensitivity for monitoring algal populations at natural levels
Insensitive to potential interferences including chlorophyll, turbidity, and dissolved organics
Usually ships in 3-5 days
| Image | Part# | Product Description | Price | Stock | Order |
| --- | --- | --- | --- | --- | --- |
| | 606131 | 6131 BGA (phycocyanin) sensor with self-cleaning wiper | | Usually ships in 3-5 days | |
Image
Part#
Product Description
Price
Stock
Order
606144
6144 optical probe wiper pad kit, 20 pack of wiper pad strips

In Stock

106023-01P
FWT 25 Rhodamine WT dye, 2.5% active ingredient, 1 pint

In Stock

606625
6625 optical wiper kit, 2 pack, for use with YSI 6150, 6136, 6131, & 6132 optical probes

In Stock

600-01
600OMS V2 Sonde with temperature/conductivity sensor

Usually ships in 3-5 days
Blue-green algae (a. k. a. cyanobacteria) monitoring is of growing interest due to the problems some species can present through the production of toxins and compounds that deteriorate the quality of drinking water and through the formation of blooms. Blue-green algae are of interest for ecosystem studies and monitoring as well, where they may represent the most abundant primary producer. Click on the YSI 6131 Spec Sheet above to learn more about the blue-green algae sensor methodology.

The YSI 6131 blue-green algae sensor is fully compatible with all YSI 6-series sondes equipped with optical ports. YSI's optical sensors use an integrated wiping system to provide anti-fouling in the most hostile environments. Durable mechanical features include a non-corroding titanium wiper shaft, replaceable wiper shaft seal, and a new switch controlled wiper parking system to prevent mis-parking.
Range: ~0 to 280,000 cells/mL; 0 to 100 RFU
Detection Limit: ~220 cells/mL
Resolution: 1 cell/mL; 0.1 RFU
Linearity: R2> 0.9999
Warranty: 2 years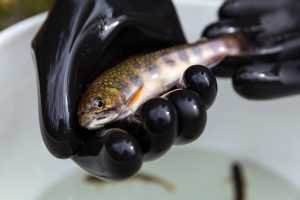 The North Carolina Wildlife Resources Commission 's Inland Fisheries Division has been working to restore brook trout in the state. Coldwater research coordinator Jacob Rash, who works with the brook trout team technicians on this project, spoke to EM about the work. 
 
 "In North Carolina, brook trout are our only native trout species," explains Mr. Rash. "With that come biological and ecological considerations as well as cultural importance. A lot of folks here grew up fishing for brook trout with their relatives, so it's an important species that we work to try to conserve. We've done quite a bit of work to figure out where those brook trout populations are and what they are, in terms of genetics.
Read More