YSI 6132 Blue-Green Algae Sensor
YSI's 6132 blue-green algae sensor monitors algal populations at natural levels in marine water, providing an early warning for bloom conditions.
Features
6132 BGA sensor is designed for marine (phycoerythrin) environments
Optimized for excellent sensitivity for monitoring algal populations at natural levels
Insensitive to potential interferences including chlorophyll, turbidity, and dissolved organics
Fondriest Exclusives
Expedited repair and warranty service
Lifetime technical support
Blue-green algae (a. k. a. cyanobacteria) monitoring is of growing interest due to the problems some species can present through the production of toxins and compounds that deteriorate the quality of drinking water and through the formation of blooms. Blue-green algae are of interest for ecosystem studies and monitoring as well, where they may represent the most abundant primary producer. Click on the 6131 Spec Sheet above to learn more about the blue-green algae sensor methodology.

The 6132 blue-green algae sensor is fully compatible with all YSI 6-series sondes equipped with optical ports. YSI's optical sensors use an integrated wiping system to provide anti-fouling in the most hostile environments. Durable mechanical features include a non-corroding titanium wiper shaft, replaceable wiper shaft seal, and a new switch controlled wiper parking system to prevent mis-parking.
Range: ~0 to 200,000 cells/mL; 0 to 100 RFU
Detection Limit: ~450 cells/mL
Resolution: 1 cell/mL; 0.1 RFU
Linearity: R2> 0.9999
Warranty: 2 years
Questions & Answers
When will the wiper activate?
The wiper activates just before each sample is taken during a long-term unattended study.
How do I install my 6132 sensor?
To install the 6132 sensor, install the probe into the center port, seating the pins of the two connectors before tightening the probe nut to the bulkhead. Do not over-tighten.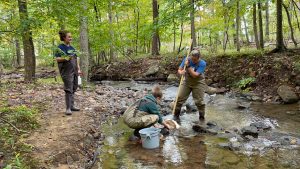 The Chesapeake Bay is enormous: the Bay and its tidal tributaries have 11,684 miles of shoreline—more than the entire U.S. west coast. It is the largest of more than 100 estuaries in the United States and the third largest in the world. The Bay itself is about 200 miles long, stretching from Havre de Grace, Maryland, to Virginia Beach, Virginia. 
 
But the Chesapeake Bay isn't just enormous--it's enormously important. The Chesapeake Bay Program reports that its watershed covers about 64,000 square miles and is home to more than 18 million people, 10 million of which live along or near the Bay's shores.
Read More