YSI Anti-Fouling C-Spray Protective Probe Solution
C-Spray is a unique nanopolymer coating that inhibits biofouling attachment on the YSI 6560 temp/conductivity probe and other sensors & water quality instruments.
Features
Environmentally safe and non-toxic
Does not dissolve in water and sticks to surfaces for long periods of time
Can be applied to sensor housings, sonde body, cable, and sonde guards
Fondriest Exclusives
Expedited repair and warranty service
Lifetime technical support
The C-Spray solution should be applied to the inside of the Conductivity electrodes. When used in conjunction with the copper screen, it offers the best possible biofouling resistance.
Features of C-Spray:
Environmentally safe and non-toxic
Does not dissolve in water and sticks to surfaces for long periods of time
Can be applied to sensor housings, sonde body, cable, and sonde guards
Does not interfere with sensing elements or water quality data accuracy
Slippery surface makes cleaning easy for buoys, monitoring platforms, and DCP enclosures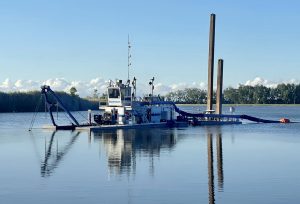 Though dredging is often painted in a negative light, dredging initiatives and projects are often conducted to improve environments, begin recovery periods for water beds contaminated with toxins, and reinvigorate ecological systems and habitats. Many of the technicians and engineers who plan and execute dredging projects are dedicated to balancing the economic benefits of dredging with protecting the environment. 
 
 Sevenson Environmental Services Inc. provides sediment remediation as one of many key services offered to help restore natural environments. Steven Shaw spent more than a decade working as an engineer on various dredging projects before finding his way to Sevenson eight years ago.
Read More