Apple patents indicate environmental sensors in its future devices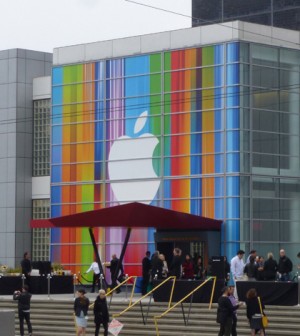 Yerba Buena Center for the Arts while hosting the iPhone 5 keynote (Credit: textlad, via Wikimedia Commons)
Apple has applied for patents that would let the company install environmental sensors in its mobile devices, according to TechCrunch. They would potentially sense indicators of atmospheric quality.
One patent details a sensor package that would track temperature, barometric pressure and humidity. It would also use microphones to monitor noise around devices. Another patent hints at a temperature sensor incorporating itself into a button.
The sensors could track weather conditions surrounding device users, or info on users themselves in some cases. Competing companies already install sensors in their devices that monitor light and barometric pressure.
Image: Yerba Buena Center for the Arts while hosting the iPhone 5 keynote (Credit: textlad, via Wikimedia Commons)