Brazil's hottest month on record threatens water supplies, crops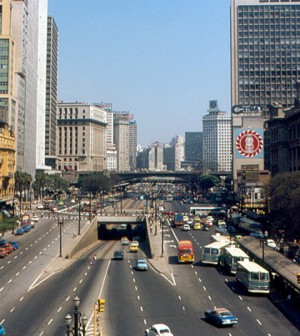 Sao Paulo (Credit: roger4336, via Flickr)
Extreme heat in Brazil in January has threatened the country's economy and may affect the political career of incumbent President Dilma Rousseff, Reuters reported.
In parts of Brazil, January was the hottest month on record. Combined with an ongoing drought, the heat affected water supplies, crop growth and electricity bills. Some meteorologists have suggested that the weather may be connected with the polar vortex that has stricken most of the United States.
Although the country's soybean growers have been largely unaffected — and may, in fact, produce a record crop this year — coffee and orange crops are at risk of damage.
Image: Sao Paulo (Credit: roger4336, via Flickr)