Citizen Scientists Can Help Study A Wintry Lake Tahoe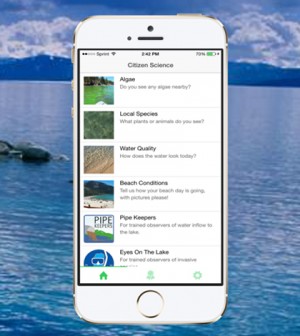 The Citizen Science Tahoe App lets users contribute observations about the lake. (Courtesy of UC Davis Tahoe Environmental Research Center)
An app developed at the University of California, Davis' Tahoe Environmental Research Center is letting citizen scientists collect valuable winter-time data on Lake Tahoe, according to a release from the school. The data collected will help researchers at the university looking to study the lake's dynamics as they change throughout the year.
Launched this past August, the "Citizen Science Tahoe" mobile app has already provided scientists at UC Davis with valuable info on the lake through the summer and fall. But with colder times coming, they are asking that volunteer data-collectors chip in to record sightings of things like algae, wildlife, water quality and litter. Personal photos and comments can also be submitted.
All data gathered by the citizen scientists will help researchers learn more about the changes that Lake Tahoe is undergoing. The crowdsourced data will be compared to measurements taken by a network of sensors around the lake, allowing researchers to both vet them for accuracy and find interesting relationships not otherwise visible through typical monitoring efforts.
Top image: The Citizen Science Tahoe App lets users contribute observations about the lake. (Courtesy of UC Davis Tahoe Environmental Research Center)