Frack sand sediment spills into St. Croix River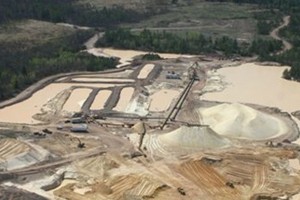 An unknown amount of sand and sediment spilled from a Wisconsin mining facility into the St. Croix River and nearby wetlands, according to a report from Minnesota Public Radio.
A hiker spotted coffee-and-cream colored water in a creek flowing into the St. Croix and a DNR flyover linked the off-colored water to a holding pond at the facility. The damage to aquatic life isn't yet clear but will be part of an investigation by the state with county and federal partners.
An increased demand for sand for use by energy companies in hydraulic fracturing has led to a rapid growth in sand mining in Wisconsin.
Read more at MPR News.
Image credit: Wisconsin DNR.