George Mason man-made wetland fosters student research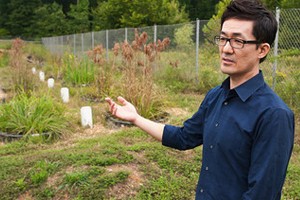 While many scientists develop cutting-edge research, Changwoo Ahn, a George Mason University professor of environmental science, creates his own version of what nature has already developed. Ahn helps establish human-created wetlands that he hopes will bolster the natural habitats which are being destroyed by human activity and possibly climate change. After aiding in the construction of Ohio State University's Wilma H. Schiermeier Olentangy River Wetland Research Park as a grad student, Ahn brought his talents to George Mason's Fairfax campus to help students research man-made wetlands.
"My intention is really to maximize the use of this facility for students and allow them to have this amazing outdoor experience," Ahn said in a university news article.
Ahn and his students are studying the effects of plant diversity on the overall wetland productivity. Because natural wetlands are mature, soil systems and native plants are already established. The challenge for newly created wetlands is establishing a healthy biotic community. The group at George Mason wants to speed the process of maturation. To do this, they must determine if it is more beneficial to focusing on one species of plant or put resources into a variety of species.
Read more at gmu.edu
Image credit: gmu.edu