Greenhouse gasses fueling Antarctic vortex growth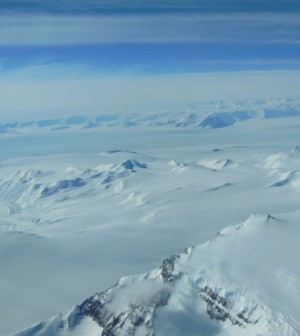 A view of Antarctica's ice sheet and mountains seen from a U.S. Air National Guard LC-130 aircraft during a flight to the South Pole in December 2012. (Credit: NASA/Christy Hansen)
A vortex of winds is rippling around Antarctica, and greenhouse gas emissions are fueling its growth, according to New Scientist.
Researchers from the Australian National University used an Antarctic ice core to model temperatures over the past 1,000 years. Correlating temperatures with wind strength and vortex size, they found that the maelstrom is stronger than it has been in a millennium. Since 1940, greenhouse gases have contributed to the winds' acceleration, with the formation of ozone layer hole playing a major role in recent years.
The clockwise-spinning vortex is responsible for Antarctica's relatively slow warming, as its strengthening winds push warm air away. As the winds increase in speed, however, the vortex shrinks, pulling rain away from Australia and leaving the edges of Antarctica exposed to the heat.
Image: A view of Antarctica's ice sheet and mountains seen from a U.S. Air National Guard LC-130 aircraft during a flight to the South Pole in December 2012. (Credit: NASA/Christy Hansen)