Invasive Species Range Largely Dependent On Time Since Introduction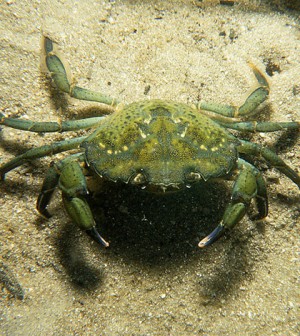 European green crab. (Credit: Commonwealth Scientific and Industrial Research Organisation/CC BY 3.0)
A study released by the University of Georgia determines which factor is causing such high numbers of non-native species invasions in marine waters. Invasive species are a global issue, mainly caused by organisms stowing away in ballast tanks of ships that cross the ocean.
According to a release from the university, scientists studied the importance of conditions for the invasive species to succeed in new environments, such as mobility, maximum body size and larvae dispersal, as well as environmental traits such as salinity, temperature and strength of ocean currents.
The study used invertebrate subjects such as crabs and barnacles. By looking at several different records, including when invasive species were introduced, scientists were able to create a model to test which traits, both physical and environmental, predicted the global ranges of each invasive species. Scientists found the amount of time elapsed since each species was introduced was the most important factor. This is because species need time to "fully occupy" the areas they've invaded.
Top image: European green crab. (Credit: Commonwealth Scientific and Industrial Research Organisation/CC BY 3.0)