New center observes world's forests with satellites, aircraft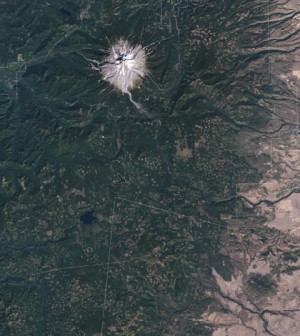 Natural-color image of part of the Mt. Hood National Forest (Credit: NASA Earth Observatory)
A new center at the University of British Columbia will monitor the environment using a comprehensive network of satellites, aircraft and the International Space Station, according to a university press release.
The opening of the Center for Applied Earth Observation was announced March 21, the Faculty of Forestry's International Day of Forests celebration. Researchers at the center will be able to stream real-time data from satellites and other providers.
The forestry industry stands to benefit greatly from the center's satellite imaging, which will help track physical changes in forest composition, as well as carbon sequestration and insect infestations.
Image: Natural-color image of part of the Mt. Hood National Forest (Credit: NASA Earth Observatory)