Purple boxes help track emerald ash borer spread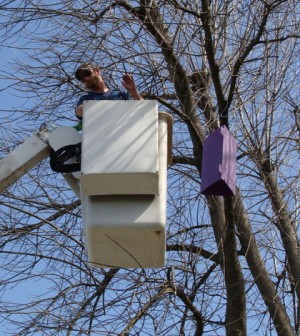 Scientists hope to trap invasive emerald ash borers for study. (Credit: University of Arkansas)
Scientists at the University of Arkansas have installed purple boxes in three campus trees, according to a release from the school. The colorful containers are shaped like prisms and are meant to capture emerald ash borers for study.
Emerald ash borers are invasive to the United States, and were recently discovered in Arkansas in August 2014. Scientists at the school hope that the new boxes will help to monitor their spread in the Fayetteville, Arkansas, area.
The purple color of the boxes mimics the underside of emerald ash borer wings and helps to attract the insects toward the trap. There is also a luring agent inside to help draw the ash borers in.
Top image: Scientists hope to trap invasive emerald ash borers for study. (Credit: University of Arkansas)