Road salt contaminates private wells in N.Y. town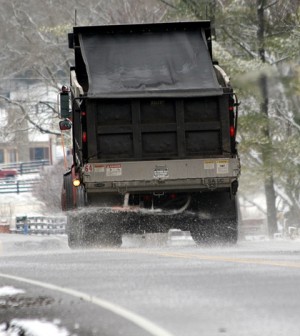 A new study found that the majority of private wells in the town of East Fishkill, N.Y., are contaminated with road salt and exceed government health standards for sodium concentrations, the Poughkeepsie Journal reported.
The study is the first conducted in accordance with laws enacted in 2007, and may lead to further testing for dozens of other contaminants. The Cary Institute of Ecosystem Studies performed the analysis using data gathered from the Dutchess County Department of Health's website.
The U.S. Environmental Protection Agency does not regulate sodium in drinking water, as most sodium exposure is associated with diet. However, six out of 10 private wells tested above the state's Health Department recommendation of 20 milligrams per liter.
Excessive consumption of sodium can lead to increased blood pressure and heart disease.
Image: A truck spreads road salt in Tennessee (Credit: Daniel Johnson, via Flickr)