Smog shrouds Beijing for seven days straight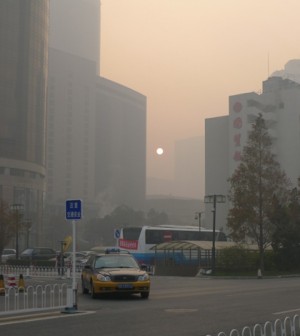 Smog in Beijing in 2011 (Credit: egorgrebnev, via Flickr)
Beijing, China, raised its air pollution alert level to "orange" for the first time on Feb. 21, Reuters reported.
The alert was raised due to a forecast predicting three days of heavy smog. The smog didn't lift for seven straight days, putting the city on orange alert until Feb. 26. The smog returned again Monday.
Orange level is the second highest on Beijing's air pollution scale, and recommends that schools restrict outside class sessions. The Beijing government drew criticism online and in the media for failing to take measures against similar pollution conditions last weekend.
Beijing residents have been asked to leave their automobiles at home in order to stem emissions.
Image: Smog in Beijing in 2011 (Credit: egorgrebnev, via Flickr)