Soil moisture-measuring robot wanders fields like a hamster ball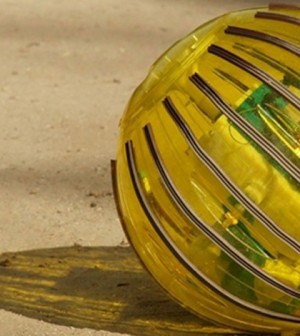 ROSPHERE, a robot that measures soil moisture (Credit: Universidad Politécnica de Madrid)
Though it may look like a simple hamster ball, a new spherical robot may assist farmers monitor soil moisture levels and temperature, according to a redOrbit.com article.
Developed by a team from the Universidad Politécnica de Madrid (Technical University of Madrid), the ROSPHERE wirelessly reports information from its sensors back to farmers, letting them know when their crops need attention.
The ROSPHERE moves by shifting its center of gravity, similar to how a hamster rolls in its ball. This unique method of locomotion gives the ROSPHERE an edge over wheeled or tracked robots, which can struggle on uneven or cluttered surfaces.
The scientists who designed the ROSPHERE are developing a second prototype with enhanced mechanics and the capability to utilize additional sensors.
Image: ROSPHERE, a robot  that measures soil moisture (Credit: Universidad Politécnica de Madrid)