Utah Lake Algae Fed By Wastewater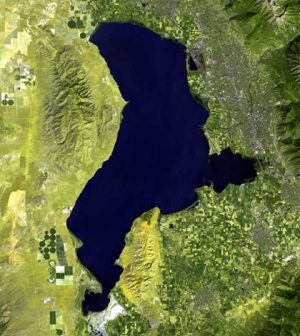 Utah Lake, October 2006. (Credit: NASA and U.S. Geological Survey)
A massive Utah Lake algae bloom is covering more than 90 percent of the state's largest freshwater lake, according to multiple reports. Officials there say the main culprit is human waste, and the phosphorus it carries, discharged from eight wastewater treatment plants nearby.
The result of all that discharge is a thick and gooey green slime coating Utah Lake and rendering its waters useless to boaters and fishermen. The lake was closed July 15, due to the health risks the bloom poses, by the Utah Department of Environmental Quality (DEQ).
Since that time, water sampling has continued around Utah Lake and the Jordan River, which carries water from the water body to Great Salt Lake downstream. Scientists are mostly concerned with levels of any toxins produced by the algae, including microcystins, that can be fatal to pets or livestock. In humans, these can cause rashes, dizziness or liver failure if ingested.
As of July 21, sampling results had not revealed dangerous levels of algae toxins in the lake, according to the DEQ. Of 42 samples analyzed, over 90 percent had microcystin levels below the U.S. Environmental Protection Agency drinking water limit of 1.6 micrograms per liter. Only one sample exceeded the recreational standard of 20 micrograms per liter. That sample was collected directly from an algal mat near Lincoln Beach​.
Results of water samples taken on the Jordan River on July 20 were also good. Eight samples contained fewer than 100,000 cells per milliliter, with the highest being around 86,000 cells per milliliter at the Utah Lake outlet. The measurement near the Narrows portion was 52,000. Those levels are too low to be considered a risk to human health but are high enough to warrant caution.
The Utah Lake algae woes come just weeks after the coast of Florida was hit with similar problems owing to nutrient-rich discharge from Lake Okeechobee. Likewise, the first-ever National Lakes Assessment, a survey of 1,161 lakes, found that algal blooms are a problem nationally.
Top image: Utah Lake, October 2006. (Credit: NASA and U.S. Geological Survey)