White Suckers In Some Wisconsin Rivers Have Liver Tumors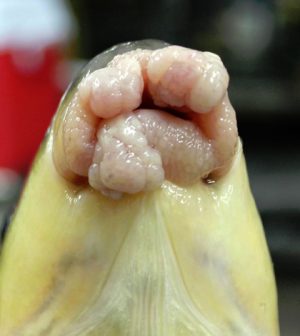 Lip tumor diagnosed as a papilloma on a White Sucker. (Credit: U.S. Geological Survey)
Results of a three-year study looking at white suckers in several Lake Michigan tributaries show a high abundance of liver tumors, according to a statement from the U.S. Geological Survey. The investigation considered three Wisconsin rivers, of which two are listed as Areas of Concern (AOCs).
The three-year study looked at tumor prevalence in white suckers in the Sheboygan River and Milwaukee Estuary, with scientists at the agency gathering findings on fish gathered at four sites. The specimens were captured for analysis with nets, after which researchers inspected the suckers and recorded data.
At three of the four sites, investigators found an abundance of liver tumors and skin lesions on the bodies, fins and lips of fish collected. Most of those fish came from two AOCs, while others came from the Root River that doesn't have the designation.
The find wasn't too surprising to the researchers as the Root River is close to the Milwaukee River AOC. Because of its location, the Root River sustains similar land and industrial runoff.
While rates of liver and skin tumors seemed to be equal between male and female fishes, the age of the fish appeared to play an important role in tumor development. And many of the fish found to have tumors or lesions were fairly old compared to others sampled.
Another significant find was that some of the male fish collected from the Areas of Concern had testicular tumors in addition to other skin tumors and lesions. But investigators found there was no correlation between the frequency of tumors and a fish's sex.
Still unknown is the cause of tumors found on the white suckers. Although some studies suggest exposure to certain chemicals can cause liver tumors in fish, scientists argue more research should be done to pinpoint the precise cause. Tumors in fish, just like ones in humans, can have many different causes.
Full results of the work are published in the Journal of Fish Diseases.
Top image: Lip tumor diagnosed as a papilloma on a White Sucker. (Credit: U.S. Geological Survey)