Yellowstone emitting vast amount of helium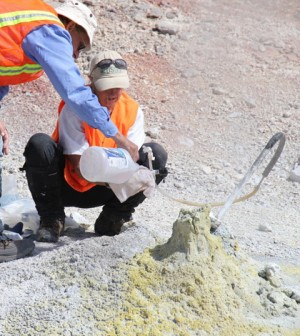 Sampling hot steam and gas (Credit: USGS)
Scientists have discovered that Yellowstone National Park is producing a vast amount of helium from magma-heated rock beneath its surface, NPR reported.
The helium has built up in the Earth's crust for hundreds of millions of years and is being released as that portion of the crust passes over a dormant volcano.
Scientists discovered the helium expulsion after collecting gas samples from pits of boiling mud and hot springs. They believe the helium has been slowly rising from the crust for the past couple million years — a very short period in geologic time.
The helium might assist geologists in determining the age of the area's groundwater supplies.
Image: Sampling hot steam and gas (Credit: USGS)