Carbon In Everglades National Park Mangroves Valued At Billions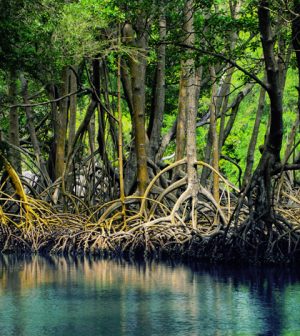 Mangroves in Los Haitises National Park in the Dominican Republic. (Credit: Anton Bielousov / CC BY-SA 3.0)
Scientists at Florida International University have put a price tag on the value of mangroves in Everglades National Park. They estimate that the stored carbon is worth somewhere between $2 billion and $3.4 billion. Though a large figure, investigators say the costs are low compared to the damage society could experience if the carbon stored in the mangroves were released into the atmosphere.
The mangrove forests of the Everglades National Park are the largest in the continental United States. Although protected, the Everglades is affected by sea level rise, hurricanes, changes in water flow and other environmental events. In addition to removing excess carbon dioxide from the air, mangroves provide a variety of other benefits, including flood control, storm protection and better water quality.
The billion-dollar price tag reflects the costs to preserve the park's mangroves and their ability to hold organic carbon intact by restoring freshwater flow to the areas that need it the most. Decreased funding for Everglades restoration was also a consideration.
Results of the study are published in the journal of Environmental Science and Policy. The study was done in collaboration with researchers at Louisiana State University and the NASA Jet Propulsion Laboratory. It was funded by the National Science Foundation and the Florida Coastal Everglades Long Term Ecological Research Program.
Top image: Mangroves in Los Haitises National Park in the Dominican Republic. (Credit: Anton Bielousov / CC BY-SA 3.0)