Cause of massive fish kills near Dayton, Ohio unknown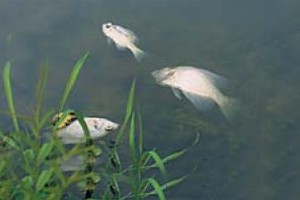 Over 11,000 fish and other aquatic species in the Dayton, Ohio area have died since April 17, according to Ohio wildlife officials. Half of these were killed when a massive oil fire occurred near a tributary. Though direct causes have not been determined, investigators believe the deaths to be caused by petroleum and may seek criminal charges. Other kills occurred in Dayton suburb streams and Little Beaver Creek, though no causes have been determined. The Ohio Department of Natural Resources said many spring fish kills occur when lawn chemicals and fertilizers flow into nearby water.
Read more at Dayton Daily News.
Image credit: Ohio DNR.