Chicago suburbs want Lake Michigan drinking water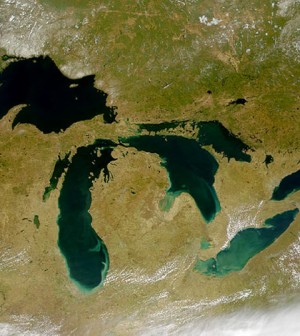 Great Lakes from space (Credit: SeaWiFS Project, NASA/Goddard Space Flight Center, and ORBIMAGE.)
As Chicago suburbs expand, their residents are looking increasingly to Lake Michigan for drinking water, according to Medill Reports Chicago. The lake, which has already been substantially tapped, may not be able to provide enough.
Unless conservation efforts are increased, experts say low lake levels and legal restrictions will leave many suburbs short of the water they need. Many of the communities are already extracting unsustainable levels of water from wells nearby.
A few Chicago suburbs have even seen elevated radium levels from over pumping wells, which is sometimes found in groundwater. With no regulation of groundwater use in Illinois, experts say the suburban sources will eventually run dry.
Image: Satellite image of the Great Lakes from space (Credit: SeaWiFS Project, NASA/Goddard Space Flight Center, and ORBIMAGE.)