Connecticut-sized dead zone in Gulf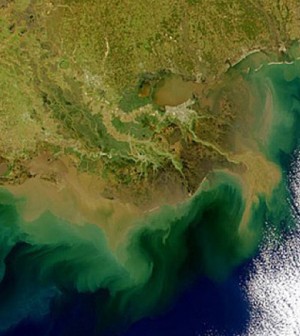 Scientists at the National Oceanic and Atmospheric Administration have found an oxygen-depleted dead zone in the Gulf of Mexico, according to a release. Dead zones are usually caused by an overgrowth of algae, often due to agricultural runoff, that uses up oxygen when it decomposes.
Though the dead zone is not as large as was predicted for 2013, experts say it is still quite large, coming in at the approximate size of Connecticut. A record size was expected because of wet spring conditions in Mississippi that led to higher river flows than normal, which pumped extra nutrients downstream.
The dead zone of 2012 was far different than the current one. The 2012 zone was the fourth smallest on record, measuring around 2,889 square miles, owing mostly to drought conditions experienced by major U.S. rivers.
Image: In 2011, 6,800 square miles of dead zone occupied the Gulf of Mexico (Credit: NASA)