DOE and GE spend $2 million to remove radioactive fracking fluid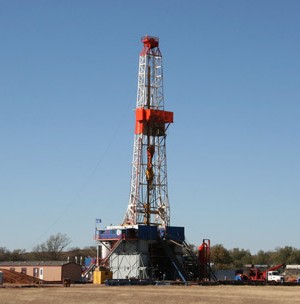 Over the next two years, The Department of Energy and General Electric will spend $2 million to remove naturally occurring radioactive materials from the fracking fluids produced by the shale-gas industry.
Radium-226, Uranium and Radon-222 have all been found in water returning to the surface from deep shale wells. According to the press, "in hydraulic fracturing operations, drillers force water and a mixture of chemicals into wells to shatter the shale and free natural gas."
While community groups have voiced worries regarding the safety of fracking, the New York Times reports that authorities haven't shown a great deal of concern. In fact, John Hanger, former Secretary at Pennsylvania Department of Environmental Protection said, "It's cheaper to dump wastewater than to treat it."
GE's Global Research lab has proposed removing radioactive elements from waters using a membrane distillation system similar to conventional reverse osmosis. However, it will be designed specifically to capture radioactive materials. According to research, the process will produce concentrated radioactive waste, which will be disposed of through conventional means.
Read the complete story at Forbes.com
Image Credit: Flickr