Experts monitor Alaska's Cleveland Volcano following eruption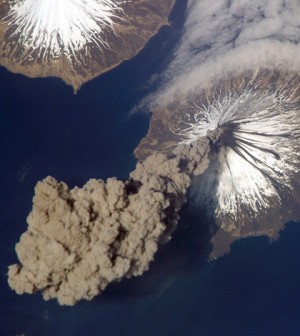 Satellites and cameras are tracking low-level emissions of gas, steam and ash following an eruption from Alaska's Cleveland Volcano, according to the Associated Press. The eruption occurred early May 4 and its plume extended below 15,000 feet.
Scientists at the U.S. Geological Survey and the Alaska Volcano Observatory are still monitoring the volcano, which sits on an uninhabited island 940 miles southwest of Anchorage. Despite the eruption, officials at the Federal Aviation Administration haven't put in place any flight restrictions.
A seismic network nearby detected long-duration airwave signals just after 5 a.m. on May 4, indicating a sustained eruption. The activity was registered after an initial explosion and scientists say two more explosions were recorded throughout the day.
Image: A Cleveland Volcano eruption in 2006 (Credit: NASA, via Wikimedia Commons)