Floating lab studies changes in Savannah River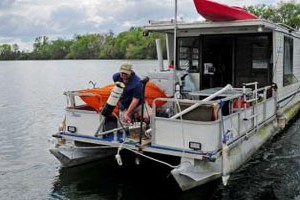 Scientists on a two-week float down the Savannah River on a house boat packed with environmental monitoring equipment will study the changes in a single parcel of water as it flows downstream and out to Savannah Harbor, according to a report from the Augusta Chronicle.
The study comes at a time of regulatory change for the river as officials attempt to correct low dissolved oxygen levels in Savannah Harbor by limiting oxygen-depleting discharges from facilities as far as 200 miles upstream. An EPA-devised plan under review aims to cut discharges of some wastes along the river from 500,000 pounds per day to 100,000 pounds.
Read more at The Augusta Chronicle.
Image credit: Zach Boyden-Holmes, The Augusta Chronicle.