ICYMI: HABs Webinar Links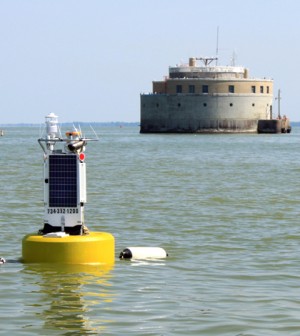 The new water quality buoy floating near Toledo's water intake crib in Lake Erie (credit: Ed Verhamme)
More than 300 viewers from 37 states, six countries, and 40 from the U.S. Environmental Protection Agency took part in a Dec. 16 webinar on real-time sensors for harmful algal blooms.
But don't fret if you missed it! LimnoTech has posted a detailed summary of the session, along with links to all associated materials on its website.
Check out all the presentations here: http://www.limno.com/hab.html.
Portions of the webinar were given by representatives from LimnoTech, the University of Toledo's Lake Erie Center and Fondriest Environmental. The rep from our office was Paul Nieberding, general manager at Fondriest.
Nieberding's portion of the webinar covered the basics of water quality sondes and sensors used to monitor algal blooms, including YSI's EXO2 and its total algae sensor, as well as data loggers and web datacenter services.
Top image: The new water quality buoy floating near Toledo's water intake crib in Lake Erie (credit: Ed Verhamme)