NOAA permits sea lion takes to protect salmon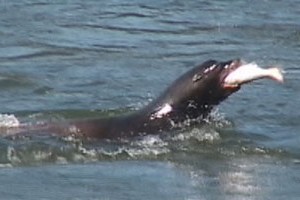 Under the Marine Mammal Protection Act, NOAA's Fisheries Service authorized Idaho, Oregon and Washington to euthanize California sea lions that eat endangered salmon and steelhead in the Columbia River's Bonneville Dam. Until June 2016, the states can kill up to 92 sea lions annually, but NOAA estimates that only 25 to 30 will be killed each year.
Over the past 8 years, California sea lions have eaten an estimated 1.5 to 4 percent of salmon returning to the Bonneville Dam. The states may euthanize sea lions that continue to eat salmon only after nonlethal methods, such as firecrackers, rubber buckshot and relocation to a holding facility, do not work.
Read more at NOAA News.
Image credit: Army Corps of Engineers