Students join ocean sensor network through NOAA program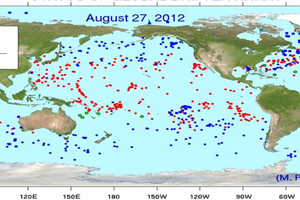 A drifting, temperature-sensing buoy was recently released into the waters offshore of Fagatele Bay in American Samoa, joining a global collection of instruments that provides important environmental data, according to a release from the NOAA National Marine Sanctuaries program.
The drifter was released by four Samoana High School students as part of their school's Ocean Swimming/Ocean Science course. The recent deployment is the first time students have launched a buoy from American Samoa. The course is participating in NOAA's Adopt A Drifter program, which gives students the opportunity to work with real-time data in their classrooms. Schools "adopt" a drifter that can be deployed by students and tracked online.
The 44-pound floating buoy is equipped with climate sensors and has the ability to measure and transmit sea surface temperatures by satellite. As the buoy moves throughout the ocean, picks up the temperature changes in the currents.
The data aids research in many ways, including helping to forecast the path of an approaching hurricane and recording the migration of many species. They also aid in making sure sea surface temperature measurements from satellites are accurate.
Image: Global drifter array map (Credit: NOAA)