Warmer Arctic Likely Contributing To Canada Wildfires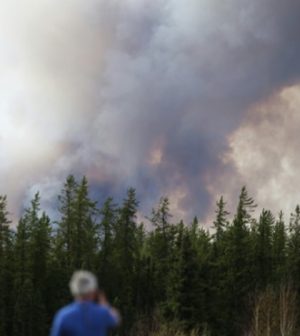 Smoke rises outside Fort McMurray. (Courtesy of Phys.org)
Scientists from Rutgers University believe there is a link between warmer conditions in the Arctic and the wildfires seen in Canada this year, according to Phys.org. The fires have raged in parts of the province of Alberta, burning more than 880 square miles and displacing thousands of families.
Warmer Arctic conditions have likely helped to spur the early arrival of the fire season in high-latitude forests, says a Rutgers expert. The warming has been helped by diminished sea ice that has released warmer temperatures and moisture into the atmosphere which appear to have thinned snow cover in the region.
Researchers at the University of Toronto have confirmed that there is less and quicker-melting snow cover than usual in the area. The earlier snow melt, they say, has helped to ready the region for a stronger fire season because it has hindered new lush vegetation growth and instead left dead and dry grass and leaves from last year that can more easily catch fire.
Top image: Smoke rises outside Fort McMurray. (Courtesy of Phys.org)