Wildlife refuge boardwalk boosts visitation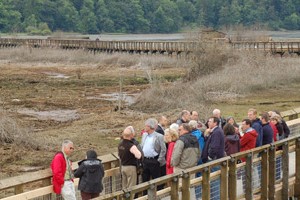 Visitors to Nisqually National Wildlife Refuge in Tacoma, WA have a bird's-eye view of saltwater estuary restoration in action. As part of the refuge's $13 million restoration of the saltwater estuary, a mile-long boardwalk was finished in February 2011, allowing visitors to enjoy what the park has to offer. The project will be complete sometime in 2014, restoring 762 acres of saltwater estuary.
Since the completion of the boardwalk, over 200,000 visitors came to the refuge – a record for the wildlife refuge. Visitors seem to be getting an education out of it as well – attendance at the visitor center and educational exhibits increased 70 percent in the last fiscal year. Refuge staff hopes the trend continues as vegetation and land formations are beginning to return to the marsh.
Read more at www.thenewstribune.com
Image credit: Dept of the Interior