Winter rains grant California towns reprieve from running out of water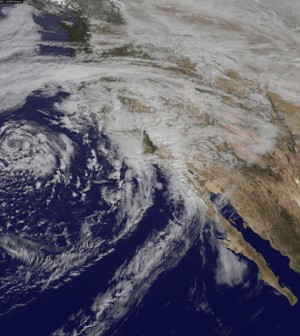 The February storm dropped inches of rain on drought-stricken California (Credit: NASA's Goddard Space Flight Center)
Winter rainfall has restored hope to 14 California communities that had previously feared running dry, according to Reuters.
California public health officials declared in January that 17 communities could run out of water within a month and a half. Following winter rains, the Department of Public Health designated only three at-risk communities.
In addition to the series of heavy storms, state intervention contributed to the communities' relief, providing utilities such as a backup water treatment plant and new wells. However, the Department of Public Health asserts that the drought is not over and conservation measures will continue.
Image: This February storm dropped inches of rain on drought-stricken California (Credit: NASA's Goddard Space Flight Center)