YSI Professional Series offers most versatility for field sampling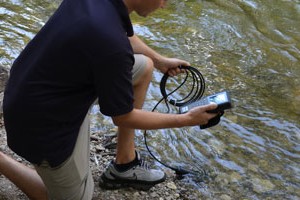 Resulting almost exclusively from customer requests for products offering ultimate versatility and field worthiness, YSI recently announced the launch of its new YSI Professional Plus handheld instrument, the flagship of the YSI Professional Series. The YSI Professional Plus provides extreme flexibility for the measurement of a variety of combinations for dissolved oxygen, conductivity, specific conductance, salinity, resistivity, total dissolved solids (TDS), pH, ORP, pH/ORP combination, ammonium, nitrate, chloride, and temperature.
The entire line, which is designed for the water professional, features many improvements based on customer feedback indicating what they would like to have in a new generation of handheld products. According to YSI Environmental Product Manager, Tim Grooms, "The Professional Series is an important new line for YSI and it's an evolution for the industry. We now focus all of our efforts on developing products our customers tell us they want."
The instrument provides numerous benefits from the following features; 2,000 data-set memory, password protection, backlit display & keypad, graphic display with detailed Help functionality, recal prompts, user defined fields, detailed GLP, auto stable, Hold All Readings function, Data Manager software for the desktop, USB connection, auto buffer recognition, and flexible folders & site lists for logging data. Data Manager Software is a very powerful tool that is included at no cost with the purchase of a Pro Plus. The software allows the user to download data, configure instruments, and conduct real-time studies.
Connect any cable and probe option to the instrument and use the convenient cable management kit to keep everything simple and organized. Cable options range from 1m, 4m, 10m, 20m, and 30m choices (up to 100m on DO only cables). Use lab or field probes and quickly switch between the two. The Pro Plus makes an ideal lab BOD instrument with the proven self-stirring BOD probe. A convenient hand strap can be used on either side of the instrument.
The Pro Plus instrument is rated to IP-67 standards even without the battery cover on. Other tough features include a 3-year display warranty, Mil-spec connectors, rubber over molded case, and a 2-year cable warranty. In-house testing procedures also include 1m drop tests from all angles to ensure expected field-durability.
For more information, call 888.426.2151 or email customercare@fondriest.com.