Bee monitoring program could track global pollinator decline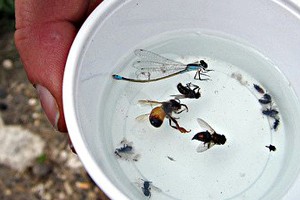 A $2 million bee monitoring program laid out in a United Nations-sponsored study could help detect drops in pollinator populations that would lead to billions in losses in certain crops, according to a release from San Francisco State University.
The study, led by a SFSU biology professor and published recently in the journal Conservation Biology, found that keeping track of bee species for five years at 200 locations would provide enough data to detect two to five percent annual declines in bee populations.
The monitoring program relies on catching bees in simple traps and is already underway in some countries.
Image: Bees are attracted to a brightly colored pan trap filled with liquid (Credit: Derek Masaki)