Chesapeake Bay watershed monitoring shows long-term progress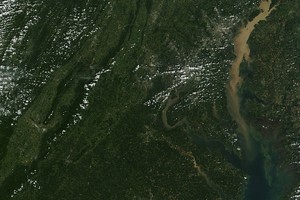 Decades of pollution reduction efforts in the Chesapeake Bay watershed have brought long-term improvements to the troubled water body, according to a U.S. Geological Survey analysis of 25 years worth of data from a collaborative monitoring network.
They study estimated loading trends in nutrients and sediment—two key pollutants harming aquatic plants and animals in the Bay—at dozens of monitoring sites. From 1985 to 2010, sediment decreased at a third of the sites, nitrogen decreased at two thirds and phosphorous decreased and nearly all sites.
Though the monitoring has shown improvements in water quality since 1985,  progress has slowed in the past decade. Data from 2001 to 2010 shows only a slight improvement in sediment levels and no change in nutrients, according to a report on the study from the Chesapeake Bay Program.