Chinook salmon numbers increase in Oregon's Hood River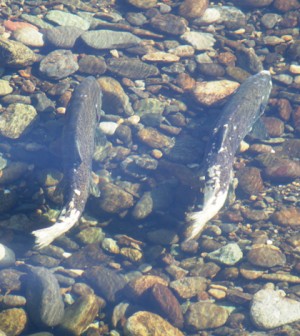 Following restoration work on the Hood River, habitat for spring chinook salmon is looking better, according to The Oregonian. The fish was once thought to be extinct, but is making a comeback in the waters.
The number of chinook topped 400 in 2012, up from a low of only 20 in 1999. Increases may be owed partly to fish hatchery efforts by the Confederated Tribes of Warm Springs to raise chinook for eventual release. Habitat improvements have also played a role.
Hatchery work and many of the improvements have been funded by a $900 million agreement between the group of local Native American tribes and the Bonneville Power Administration. For the sum that will be disbursed over 10 years, the tribes agreed to drop a long-running lawsuit with the power utility.
Image: A pair of Chinook salmon (Credit: USFWS, via Wikimedia Commons)