Cornell launches climate change website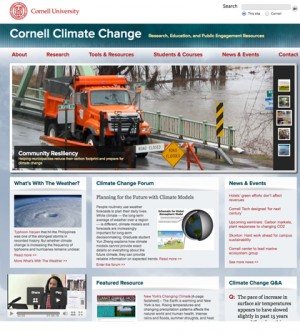 Cornell University has launched a website to focus on issues relating to climate change, according to a release. University officials are calling it a "one-stop-shop" for information on the changes challenging current and future generations.
The website, climatechange.cornell.edu, features a searchable database filled with climate change research and pages specific to current issues that are meant to help farmers, local government officials and educators. There is also a page dedicated to weather events, fed from the Northeast Regional Climate Center, which is housed at Cornell.
Additionally, the site will feature a forum where Cornell researchers will publish research on climate change and a section for the public to submit questions for experts to answer. The university will also support a news section for sharing work it's doing to address climate change.