Dam removals equal more fish in the Northeast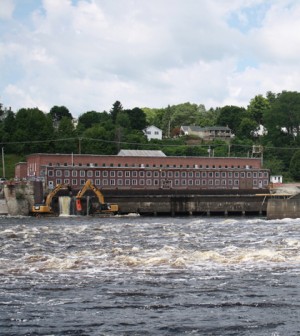 Ninety-six dams have been removed from rivers in New England since 1999, according to American Rivers. As the number of dams has gone down, experts say fish populations have gone up, according to Outside magazine.
The Penobscot River is one of those rivers. Sitting in Maine, it has seen returns of endangered Atlantic salmon and sturgeon. Rapids have also come back to the river following dam removals, bringing tourists who go rafting on the whitewater and aiding in fish migrations.
Other prominent dam removal projects include the Edwards Dam on Maine's Kennebec River, which marked the first time (1999) a free-flowing river was deemed of greater value ecologically than the economic value of a dam by the Federal Energy Regulatory Commission. Another was the removal of Rhode Island's Pawtuxet Falls dam in 2011, the largest such project in the state's history.
Image: A section of the Veazie Dam on the Penobscot River, which was recently breached (Credit: U.S. Fish and Wildlife Service, via Flickr)