Emerging environmental problems and federal funds spur new Lake Erie monitoring effort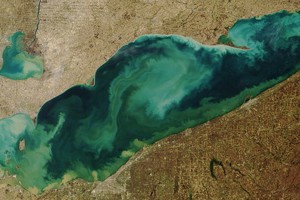 Regulators from Indiana, Michigan, Ohio and Canada and several universities will partner in a new three year plan to monitor Lake Erie, according to Great Lakes Echo.
Monitoring will be funded by the Great Lakes Restoration Initiative and will focus on several problems cropping up in the lake. At the forefront are harmful algal blooms and invasive Asian carp.
Lake Erie was heavily monitored in the late 1970s, but more recent indications of healthy water stifled interest. Now there's a resurgence of scrutiny over lake conditions as they worsen.
Image: Satellite image showing stirred-up suspended sediment and algae in Lake Erie (Credit: NASA)