Enforcement unclear on illegal Asian carp shipments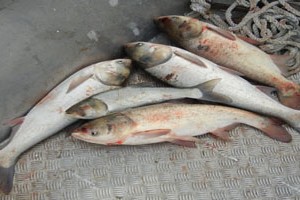 While most efforts to stop Asian carp from invading the Great Lakes are centered around Chicago waterways, the fish are moving around the basin in illegal truck shipments, according to a report from the Detroit Free Press.
Though it is illegal to posses live Asian carp, and violators face thousands of dollars and fines and even jail time, five trucks in the past year have been stopped with thousands of pounds of live fish on their way to Toronto markets. However, it's not clear that federal enforcement on the issue is as stringent as it could be.
Read more at The Detroit News.