Press Release: NexSens Releases WQData 3 Environmental Datacenter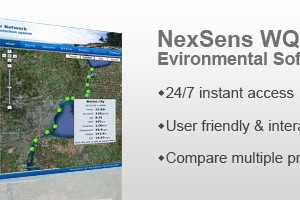 Dayton, OH — New from NexSens Technology, WQData 3 is a secure online environmental datacenter that provides a graphical online interface for viewing real-time environmental data using any Web browser.
WQData is built and generated automatically by iChart software and posted to servers hosted by NexSens Technology. The datacenter can be set up as a secure (password protected) site or an open site for easy access by anyone with the web address.
With this web-enabled environmental datacenter, visitors experience project information on a virtual instrument; selecting panel buttons to view project area maps, recent and historical data, time series graphs, statistical summaries, project-specific information or to join a community forum.
The map view allows environmental professionals to choose street maps, satellite imagery, or high-resolution aerial photography displays. A virtual button is placed on the map to indicate individual site locations.
Site visitors can interact with the project maps by zooming for a detailed look at the monitoring site or highlighting the site buttons to get a quick view of real-time project data.
Data view provides the most recent data and a historical table. A quick download feature lets visitors download data files and open them directly in Microsoft Excel or other spreadsheet and database applications.
Graph and Stats views show recent historical data and are customizable to user specifications. Features include 'Mouse Over' to view actual data in a popup window and 'Click to Find' to locate the data set in the table.
With a customizable bulletin board, the Forum view let project members share information and facilitate project communication.
For more information on the latest in environmental datacenter software and data logging technology, email info@nexsens.com or visit http://nexsens.com/.
About NexSens Technology: Recognizing the need for real-time environmental data, NexSens Technology, Inc was started in 1999 and is quickly becoming the preferred supplier for environmental researchers. The company's unique focus on water quality and weather sensors provides researchers valuable system features and capabilities not found in generic data logging equipment.