EPA app allows users to check the health of U.S. waterways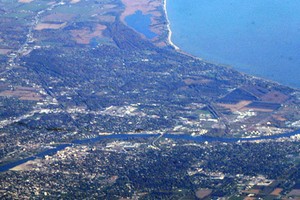 A new app released by the U.S. Environmental Protection Agency will let users check the health of their local waterways, according to a release from the organization. It's available for smartphones, tablets and desktop computers.
Called "How's My Waterway," the application will show the condition of thousands of lakes, rivers and streams. Users can allow the app to find their nearest streams through GPS technology or by using zip codes and city names. Results are returned for waterways within five miles of each entered location.
Once a waterway has been selected, information is provided on the type of pollution reported for that waterway and the efforts the EPA and government agencies have put forth to reduce it. Technical information and reports are available for many waterways, as well as simple descriptions of pollutants affecting them.
Image: Saginaw River and Bay (Credit: Doc Searls, via Flickr)