EPA plans removal of chemicals from inert ingredients list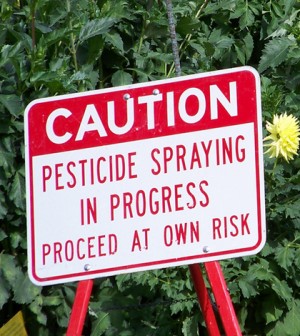 Inert ingredients in pesticides aren't necessarily harmless. According to Chemical & Engineering News, the EPA plans on removing 72 chemicals from the list of those allowed for use as inert ingredients in response to pressure from environmental groups. None of the 72 are currently in registered pesticides in the U.S., however. There are 371 potentially hazardous inert ingredients that could appear in pesticides, and some of the 72 are on the list.
Environmental groups are not necessarily attempting to get all 371 removed from the list of accepted pesticide ingredients. Their aim is to make it a requirement for pesticide companies to disclose these inert chemicals' identities if they are used in U.S. pesticide formulations.
Top image: Caution sign outside Manito Park in Spokane, WA. (Credit: jetsandzeppelins via Flickr/CC BY 2.0)